Carl was born and raised in Fort Lauderdale, Florida.  Like most guides, he grew up fishing local canals and various lakes around the neighborhood, and by age 10 he had his first boat – a 10' aluminum Jon boat, powered by a 4hp Johnson outboard.
After high school, Carl became a full-time mate on a sport fishing yacht, spending time locally in South Florida, as well as the Bahamas, Cozumel, MX, and St Thomas USVI, from bottom fishing to catching Blue Marlin. In 1986, Carl became a USCG licensed captain, working on boats and attending college.   He graduated with a Bachelor's Degree in Economics from FAU in 1991 and continued working on private boats, traveling and fishing until he decided to start guiding. In 1996, AWOL Fishing Charters became a reality.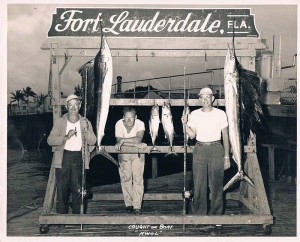 The name lends itself to some history.  His passion for fishing and guiding was inspired by his grandfather's fishing stories when he was an offshore charter boat captain in the late 1940's and early 1950's on his boat the "AWOL" – named after his last name "Lowa," spelled backwards. 
Since then Carl has focused on light tackle and fly fishing for bonefish, permit, and tarpon from Palm Beach to Miami and throughout the Florida Keys. Because of its proximity to Fort Lauderdale, Carl concentrates most of his fishing efforts in Miami and Biscayne Bay fishing from Key Biscayne. 
Carl's extensive experience as a fishing guide has attracted celebrities and experienced anglers alike, as well as beginners and kids, and anglers vying to place in fishing tournaments.
A focus of his has been the research and conversation of tarpon, bonefish and permit.  He participated in multiple studies which included the tagging of bonefish, permit and tarpon for the University of Miami, Tarpon Genetics Recapture Study and for Bonefish & Tarpon Trust (BTT). By the end of the study in 2014 Carl ranked 8th overall in Florida for the Tarpon Genetics Recapture Study, by DNA sampling 425 tarpon.
Carl is a recognized Hells Bay Boatworks Professional Guide and is involved in fundraising, research and conservation events through IGFA, Hells Bay Boatwork and Bonefish & Tarpon Trust (BTT).  He has been featured in the Sun-Sentinel, Miami Herald and Florida Sportsman, and written articles for Florida Sportfishing, and was mentioned in Andy Mill's 2013 book, "A Passion for Tarpon."  He is a member of the Florida Guides Association, Coastal Conservation Association, BTT, and the IGFA. He also participates in the Herman Lucerne Memorial Fishing Tournament to benefit Everglades National Park.